Free Online Alphabetical Order Tool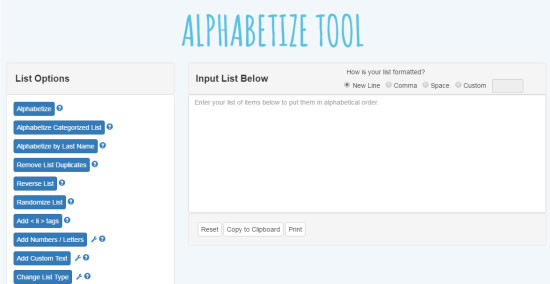 If you deal with lists, you know making changes to them can be a hassle, not to mention quite time consuming and tedious. There are many situations when it's beneficial to put a list into alphabetical order. The problem is trying to do this by hand is simply a pain. Wouldn't it be great if there were a tool which would instantly
put any list into alphabetical order
with a simple click of a button? That's exactly what you can do with our new free online alphabetizer tool. (Click on the image above or below to begin alphabetizing your lists.)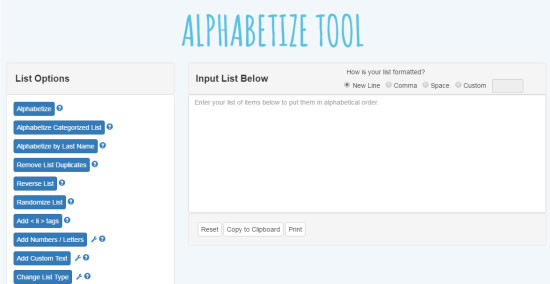 When it comes to putting your list into alphabetical order, you may want to do so in a specific way. One of the great benefits of the above alphabetizer is it can help you put your lists into the order you want in a variety of ways. This can be extremely helpful since many projects require lists to be alphabetized in different ways. These are some of the ways you will be able to use this tool.
Alphabetical Order: You can place any list you have into the tool text area in a variety of formats and it will put it into alphabetical order with one click of your mouse. Nothing could be easier!
Categorized Lists: One function many alphabetizers can't do is to work with categorized lists. Most of the time you must copy and paste each list under each category to get everything in the order you want. Our tool allows you to mark your categories within your list so that it will alphabetize everything under each category instead of the complete list.
Last Names: Names lists can sometimes cause difficulty, especially when the list contains both the first and last name. Many times you want the name list alphabetized by last name, but many tools will only do so using the first name. Ours has an optional function that will put name lists into alphabetical order by last names as well.
Reverse Order: There may be instances where you want your list to go from "z to a" rather than the other way around. This reverse order can also be easily done with our tool.
Random Order: Sometimes you may want a list you have put into a different random order. Our tool allows for this option.
Remove Duplicates:If you have a particularly long list that has been created over a long period of time, there is a possibility the list contains the same information more than once within it. The remove duplicates function on our tool will remove these so your list is clean and tidy.
HTML Bullet Points: If you will be placing your list on a blog or website, you may want to have bullet points in front of each point on the list. Our tool will place the HTML around the list items so that these bullet points will show up when you place it online.
Numbers and Letters: Once you have your list in the order you want, you may want to add numbers or letters in front of each item on the list. Our tool can do this with a simple click of your mouse.
Custom Text: If there is something special you want to add in front of each item on your list, there is a custom function which will allow you to do this. This can save a great amount of time and allow you to customize your list exactly the way you want without a lot of effort.
List Format: What if you have a long list that has been separated by a comma after each word, but you need that list to be changed to one where each word is on a separate line with no commas? No problem. Our tool can do that for you by easily allowing you to change from one list format to another.
If you have suggestions on how we can make our alphabetizer better, please leave a comment or use the contact link to let us know. We always strive to put the best tools out there and hope that this one can help you with your school work, business or any other situation where you need to place your lists into alphabetical order.