Free Word Count Tracker for Your Blog or Website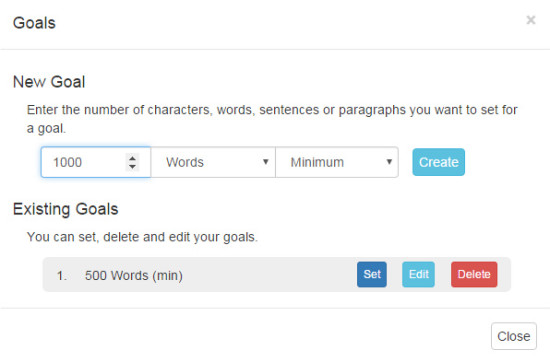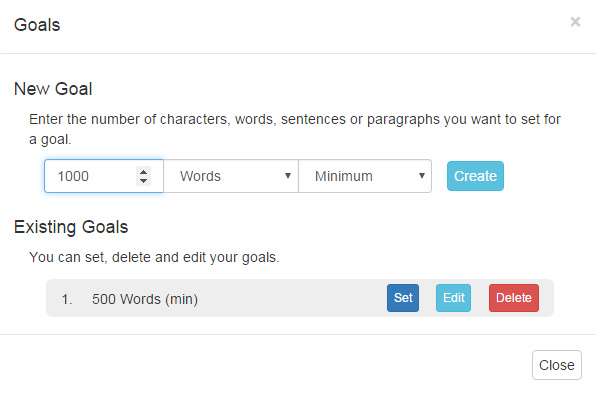 One of the popular features on WordCounter is the goal setter (button right above the text input area). This allows users to set a word count goal which allows them to see their progress toward that goal as they type into the text area. What a lot of people don't notice is that there is actually a way to embed this counter into a website or blog allowing others to also see how you're progressing on your word count goals.
To embed the free word count tracker, all you need to do is click on the earth icon to the right of the tracker once you have set a goal. Hovering over this icon, you'll see the words "Embed this!" Once you click on it, you'll be given a couple of choices on the appearance of your word count tracker. You can choose the size (small, medium or large) and the color (blue, red, green, yellow, pink, cyan, brown, purple or orange). Once you've made these two choices, you simply click on the "save and get code" button. This will give you code that you can then place on your blog or website.
One of the advantages of this word count tracker is you never have to manually input the number of words you have written to update the counter. As you add words to your writing in the text area on WordCounter, the tracker will automatically update. This allows others to know how you're doing in real time toward your writing goals.
There are a couple of ways you might want to use this. For example, if you write blog articles and you have a daily goal of writing 1000 words a day, you can begin writing each day and people will be able to see where you're at during the course of the day (and whether you meet your goal). Then you can begin from zero the next morning and continue to repeat day after day.
If you have a longer piece of writing, you can set the goal as much larger. For example, maybe your goal is to write 50,000 words for a single project. You can set up the tracker for this amount and everyone will be able to see how your are progressing toward the longer-term goal.
No matter how you choose to use the word count tracker, it's a great way to keep you accountable to the writing goals you set for yourself. Stating your writing goals and placing them out there so all can see is a great way to keep yourself honest, and it can be a great motivator to write on a daily basis. If you truly want to get a good amount of writing done daily (or over a longer period of time) using one of these trackers is an excellent way to do so.
I usually have a minimum writing goal of 500 words a day, although I sometimes increase it for certain periods when I need to be extra productive. You can see the tracker I use below.
Just go to the main page to get started.