Word Counter Auto Save Option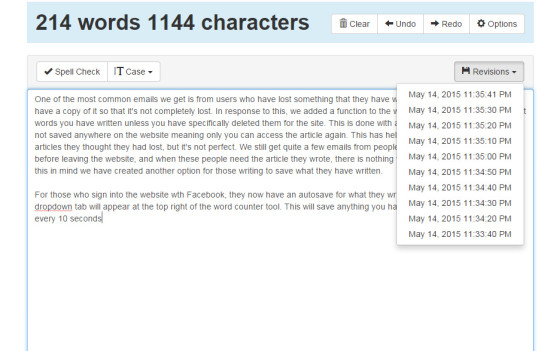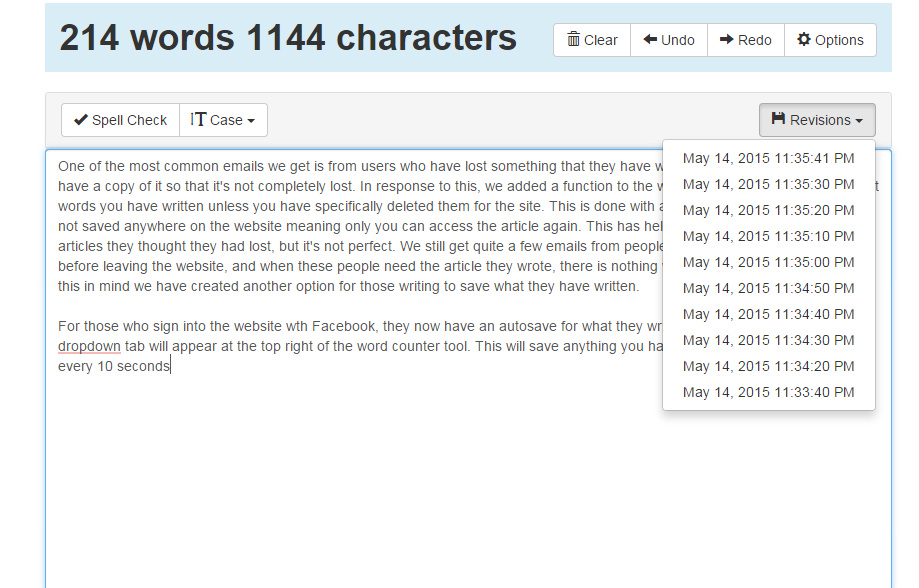 We do our best to continually update word counter to provide new tools the users request. One of the most common emails we get is from users who have lost something that they have written, and they're hoping we have a copy of it so that it's not completely lost. In response to this, we added a function to the word counter that will leave the words you have written in the word counter text area unless you specifically deleted them from the site.
To do this, we use a cookie on your computer and is not saved anywhere on the website meaning only you can access the article again. This has helped a number of users regain articles they thought they had lost, but it's not perfect. We still get quite a few emails from people who have cleared their writing before leaving the website, and when these people need the article they wrote, there is nothing we can do to help them. Anyone who has lost an article knows that feeling, so we wanted to give users the option of having their writing saved a bit better. It's with this in mind we have created the option to sign into the website through Facebook.
For those who sign into the website through Facebook, they'll now have an autosave for what they write. When signed in, a "Revision" drop-down tab will appear at the top right of the word counter tool. This will save anything you have been writing in word counter every minute for 60 revisions (it will only make a new revision if there is a change to what you have written into the word counter box in the last minute). That means if your computer crashes, the window closes, or even if you clear the page, you still can go to the Revision tab and restore anything you have written in the recent past.
In order to do this, what you write is saved onto our servers. Since your writing is linked to your Facebook account, no other users will be able to see what you write. Since the writing is being saved, technically the site admins (there are two of us) can see what you have written, but we don't do this. We have no interest in what you're writing and we're far too busy on other projects to be looking through that information. Your work is yours and we will never use it or sell it. We have simply implemented this save option so we can decrease the number of emails we get where users have lost their writing. If you absolutely want to make sure nobody can see what you have been writing, then you shouldn't use the Facebook sign-in option.
It's important to note that this tool should not be used to replace saving your writing on your own computer and backups that you usually make. It's an emergency tool to hopefully retrieve an article that would have otherwise accidentally been lost. There is no long-term storage of the article and after every 60 revisions you make, the writing will disappear. This method also isn't foolproof, and it's still possible a technical glitch could happen where revisions aren't saved properly, so you shouldn't rely on this as your only method to save your work. It is, however, another layer that may help you recover your writing if something unexpected should happen.